Village Publishing Building
73 Valley Drive Furlong, PA 18925
(800) 553-7678 (800) 633-7223
FAX (215) 794-3386
staff@custodycenter.com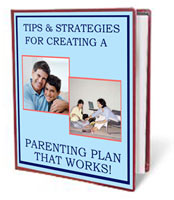 Tips & Strategies for Creating a
Parenting Plan That
WORKS!

One of the most difficult things a divorced parent must deal with is continuing to provide a caring, loving parental experience for your children.

This informative guide to creating a co-parenting relationship with your child's other parent covers everything you need to know about shared custody, designing placement schedules, frequently asked questions (and answers!) and how to avoid conflict when arranging shared custody with your ex.
PART ONE


Questions Parents Have About
Custody and Placement

Answers to commonly asked questions about custody and placement of children following a divorce.
PART TWO


Planning For Your Children's Future:
A Parents Guide to Custody and Placement
A how-to guide for parents that covers everything you'll need to know regarding placement and custody.
Dr. Zirkel's informative booklet includes
answers to many commonly asked
questions, such as:
How can I tell if my child needs counseling?
My child does not seem to be adjusting well to the transitions. What can I do?
I would like to move to another city. How will this affect my children? Should I ask the children where they want to live?
My child is refusing to spend time with the other parent. What can I do?
My ex-partner emotionally and verbally abused me while we were married. Won't my children be subject to the same abuse? How can I protect them?
Will a "50/50" placement schedule work for our children?
And many others!
Dr. Kip Zirkel received his Ph.D. from Ohio State University, and has over 25 years of clinical experience in counseling, mediation, and custody evaluations. Currently, he is a consulting psychologist at the Family and Children's Center in LaCrosse, Wisconsin, as well as senior staff psychologist at the University of Wisconsin-La Crosse Counseling and Testing Services. He runs workshops for attorneys, Guardians ad litem, and child/family therapists, and specializes in providing techniques for settling disputed custody cases without the expense of court trials.
You will be able to easily return again and again to the Download Site for one full year to read or print the information and to review new material as it is added and updated.
NOTE: THIS IS INFORMATION THAT YOU WILL WANT TO GIVE TO YOUR LAWYER. YOU HAVE OUR PERMISSION TO MAKE ONE COPY FOR YOUR ATTORNEY.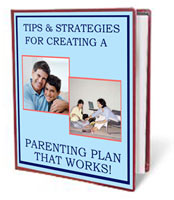 Tips & Strategies for Creating a Parenting Plan That
WORKS!
45 Pages
Download Price: $16.95
Download File Format: Adobe Acrobat Reader
(compatible with all PCs & Macs)
Download Time: 1-3 minutes
Includes one year free access to the Download Site
for updates and new material