Village Publishing Building
73 Valley Drive Furlong, PA 18925
(800) 553-7678 (800) 633-7223
FAX (215) 794-3386
staff@custodycenter.com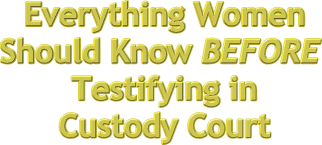 INCLUDES A SPECIAL CHAPTER FOR
"WOMEN ONLY" (See Chapter 9)
TIPS AND STRATEGIES DESIGNED TO

"Give You the Edge"

WHEN TESTIFYING
IN FAMILY COURT

This publication will also help your children and your other witnesses be more effective when testifying in family court.

(Using this information may very well prove to be the difference between a happy and an unhappy conclusion to your case.)
CHAPTER ONE
Common Custody Traps for Parents
Learn about the mistakes parents commonly make when starting a custody battle. Know what not to do before you do it!
CHAPTER TWO
Tips for Parents Seeking Custody
Explores what you can do during custody proceedings to better your chances of winning custody.
CHAPTER THREE
How to Testify in a Custody Case
A useful guide to being calm, cool, and collected on the stand. A helpful list to review with your lawyer!
CHAPTER FOUR
Children Testifying in Court
Designed to help parents and guardians prepare their children to testify in court. Included is an explanation of the courtroom process, advice about preparing children to testify, considerations in working with legal professionals, and suggestions for aftercare following the trial.
CHAPTER FIVE
Cross-Examination
Cross-examination can be one of the most nerve-wracking experiences you're likely to have during your time in court. Learn what tricks and tactics your opponent's lawyer will use against you!
CHAPTER SIX
Custody Cases from the Lawyer's View
Learn what your lawyer should be doing for you, and what he or she should avoid. This is a helpful guide that should be reviewed with your lawyer before you go to court.
CHAPTER SEVEN
The United States Court System
An in-depth look at how the court will work and why. Includes a glossary of terms you will hear and what they mean. It is important to have a rudimentary understanding of what you will be getting yourself into when you go to court.
CHAPTER EIGHT
How to Negotiate Child Custody Without Going to Court
Sometimes, custody can be negotiated if both parents sit down and talk rationally about what kind of arrangement will work best for both of them and the child. Everyone's schedule and lifestyle need to be considered to make a plan that will work. This chapter shows you how.
CHAPTER NINE
What Women Should be Aware of During a Child Custody Court Case
WOMEN AND MEN ARE TREATED DIFFERENTLY DURING CHILD CUSTODY COURT CASES AND IT IS EXTREMELY IMPORTANT TO BE ABLE TO COUNTERACT THIS JUDICIAL BIAS
You will be able to easily return again and again to the Download Site for one full year to read or print the information and to review new material as it is added and updated.
NOTE: THIS IS INFORMATION THAT YOU WILL WANT TO GIVE TO YOUR LAWYER. YOU HAVE OUR PERMISSION TO MAKE ONE COPY FOR YOUR ATTORNEY.
Everything Women Should Know Before
Testifying in Custody Court
161 Pages
Download Price: $19.95

Delivered in Adobe Acrobat Reader which is
compatible with all computers (PCs & Macs)
Download Time: 1-3 minutes
Includes one year free access to the Download Site
for updates and new material